The Nintendo Switch launched on March 3 and was immediately sold out everywhere. But there's still plenty of people out there trying to get their hands on this unique console. We're here to do our part in helping you track one down.

While you may get lucky by randomly checking the electronics section of your local Best Buy, Target, or Walmart, those sorts of finds are few and far between. While the following suggestions are not foolproof, they are necessary steps you should be taking in order to score a Switch.


We've written about Wario64 before, and now is a perfect time to follow him if you aren't already. Wario64 is a Twitter account that somehow (we're guessing black magic) keeps track of stock on hot gaming items and tweets out when they're available.


However, following Wario64 isn't enough, as there are tens of thousands of others following as well. We suggest you turn on mobile notifications so Wario's tweets go direct to your phone. Yes, this will mean you'll get all tweets from the account, but it's a worthy sacrifice to help you score a Switch. You can always turn off notifications once you've acquired your precious, and who knows, maybe Wario will help you track down some other items as well!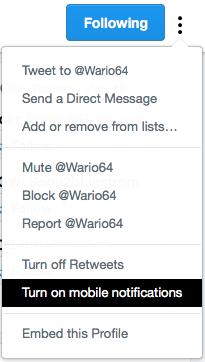 NowInStock.net is exactly what it sounds like: a website dedicated to tracking stock of hot items and alerting you when they're available. If you work at a computer all day, we recommend opening NowInStock in a separate tab and using its "in-stock alarm." This will be a loud beeping sound that will easily draw your attention to the tab, alerting you to stock availability at various retailers. You can even set up email and text alerts (though it looks like their text alerts are currently maxed out) for an additional benefit.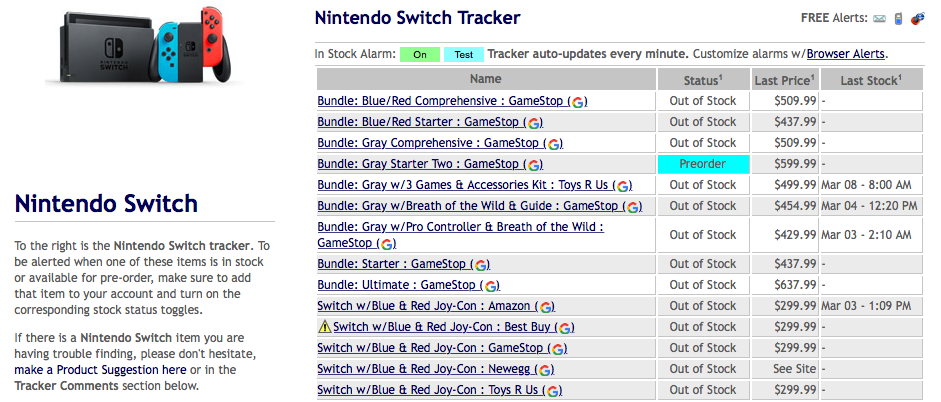 Good Luck!

While none of these suggestions are guaranteed to land you with a Nintendo Switch, they are necessary steps you should be taking in order to have a shot at one -- at least for the foreseeable future.